Immigration client & case management software
Ease the pressures of your workload with efficiency-boosting features and automated tools in Osprey Approach, the cloud-based case management solution designed to streamline the processes involved in immigration cases. The Osprey software helps you centralise and organise your case so you can focus on easing the stress of the immigration process for your clients.
Trusted by law firms across the UK
0
1
2
3
4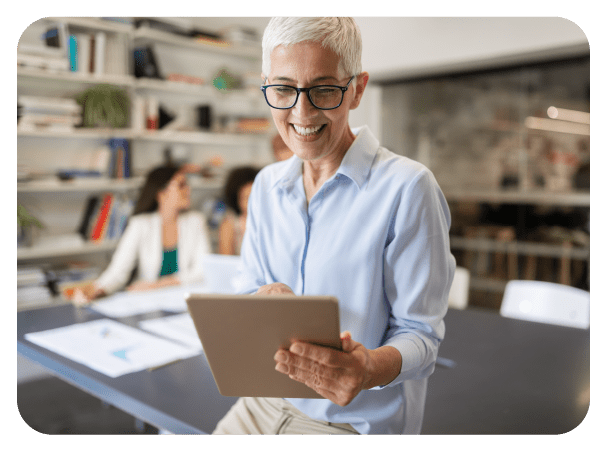 Work anywhere, at any time
Osprey provides law firms with the digital tools to work effectively from any location and empowers immigration lawyers to work in a way that suits them. Access your client data, documents, and matter history from the palm of hand using the Osprey multi-device app, so you can continue to progress a case, even when you're on the go. Effortlessly track your time against tasks too using the mobile time recording app so you're always accurately recording billable and non-billable hours.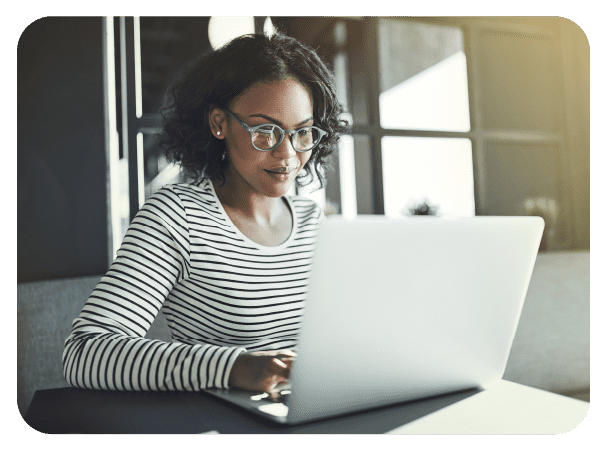 Streamline processes to increase productivity
Free up your time using automation to increase productivity so you can dedicate your focus on your clients. Centralising your data in Osprey provides you with opportunities to reduce manual admin, cut overhead costs and streamline repetitive tasks. You can create forms and documents in minutes, not hours, because they automatically pre-populate using the information you hold. You can reduce the cost of creating case bundles when using the bundle function to index and paginate your PDF document and you can streamline all processes using the Osprey focused workflows to automate those time-consuming manual tasks.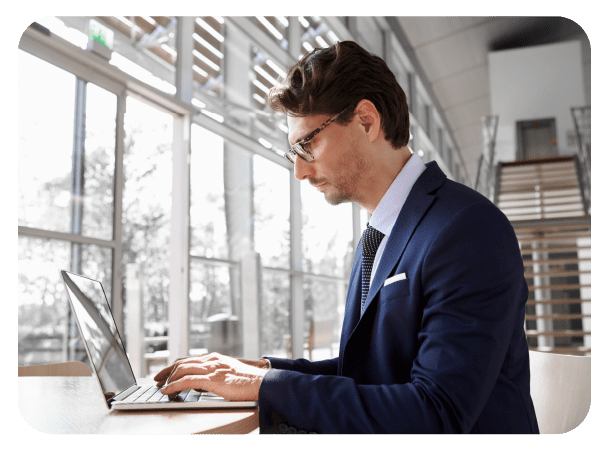 Streamline data capture
Reduce the risk of error and simplify your data capture to decrease your document production time, to help you stay on top of deadlines and provide an easier experience for your client. Keep track of what clients have and haven't provided in Osprey by creating task lists and using automated workflows to schedule key dates, internal reminders, and critical deadlines. Create as many immigration-specific custom fields as you need so you can collect and organise the data required for your case and file all your templates, forms, and communications to the matter history, so you have a 360-degree view of your case progression to improve accuracy and provide clarity.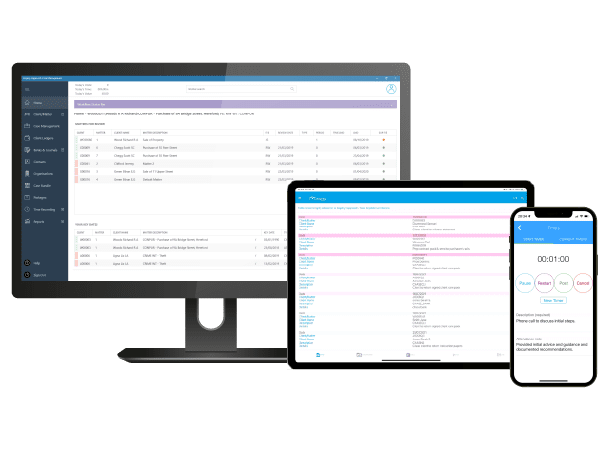 Immigration case management key features:
Case bundles
Save time and money creating your case bundles in Osprey. Easily select documents and build your PDF bundle that is automatically paginated and indexed without manual editing.
Client portal
Provide clients with an online platform to securely send and receive files and view real-time case updates to help enhance client service and speed up case progression.
Integrated billing
Improve the accuracy of your bills, speed up the invoicing process and gain full visibility of your firm's finances with Osprey's fully integrated legal accounts.
Time recording
Accurately record time and ensure billable hours are properly tracked, for both private and legal aid clients, using the Osprey time recording mobile app.
Automated workflows
Reduce the amount of time spent on manual tasks and streamline your workload with our immigration law workflows.
Document production
Auto-populate documents and form using the data you store in Osprey to avoid rekeying data and reduce the risk of errors.
Frequently Asked Questions
What is immigration case management software?

Immigration legal case management software provides legal professionals with the digital toolkit they need to easily and efficiently manage their immigration matters.
Case management software includes everything from document creation and management to time recording, billing, invoicing, client onboarding, and reporting. Case management software centralises all your data, documents and files into one centralised platform to help with staying compliant, improving efficiencies and delivering quality client service. This enables processes to be automated and workflows to be streamlined so your time is freed up to focus on value-added tasks, your clients and achieving your goals.

Can I manage legal aid immigration cases in Osprey?

Yes, you can manage legal aid cases in Osprey. Remuneration rates are kept up to date in Osprey with guidance from the Legal Aid Agency. This makes time recording for work and FAS easy with Osprey.

Can I use Osprey on my smart phone?

Osprey has apps for Apple, Android and Microsoft devices allowing you to use Osprey on the go, from any device. Our web portal is also mobile responsive so clients can access their case information from anywhere. With the Osprey apps its easy to time record, access client information and view and create documents on the go.

Can I create digital case bundles in Osprey?

Yes. One of the many benefits of using Osprey's digital document management solution is you can significantly reduce the time it takes to create court bundles. In Osprey you can simply select the documents you want to include from the matter history and when you download the case bundles it' will automatically chronologically order the documents and paginate, index and bookmark the bundle into a correctly formatted PDF file.

What form providers does Osprey integrate with?

Osprey integrates with Lexis Smart Forms. Forms are automatically kept up to date and can be mapped with data from the system making producing your forms quick and efficient.

Does Osprey take care of calendars and to-do lists?

Osprey's task list allows you to record and keep track of all of your important dates. These dates can be synchronised to your Outlook calendar so you can continue to use the business tools you know and love, whilst staying on top of tasks and never missing an important deadline.
The Osprey Approach All-in-One Solution
The complete Osprey Approach solution combines comprehensive case management, powerful practice management, legal accounting, and streamlined client management – enabling your firm to run a streamlined and profitable operation that exceeds client expectations.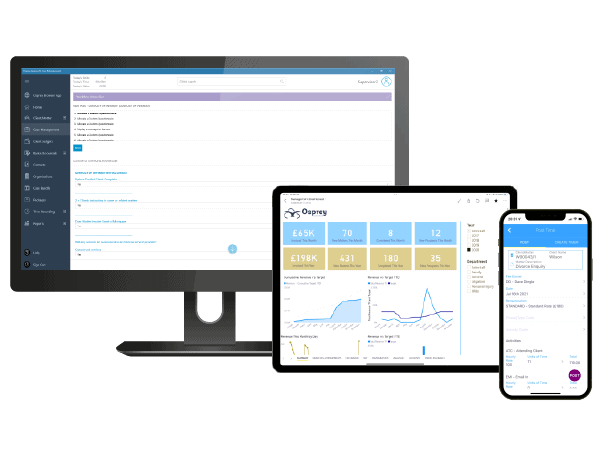 See Osprey in action
Discover the power of Osprey Approach in a free, no obligation demonstration, and learn why thousands of lawyers trust our software solution to manage their firm. Complete the form and a member of our sales team will be in touch to find out more about your firm's needs and to book a meeting at a time that suits you.