Case management software for wills and probate
Case management software for private client solicitors handling wills and probate. Simplify tasks, improve productivity, and boost profitability with Osprey's automated workflows and dedicated app. Osprey's suite of digital tools enables your law firm to focus on your client's needs and billable hours.
Trusted by law firms across the UK
0
1
2
3
4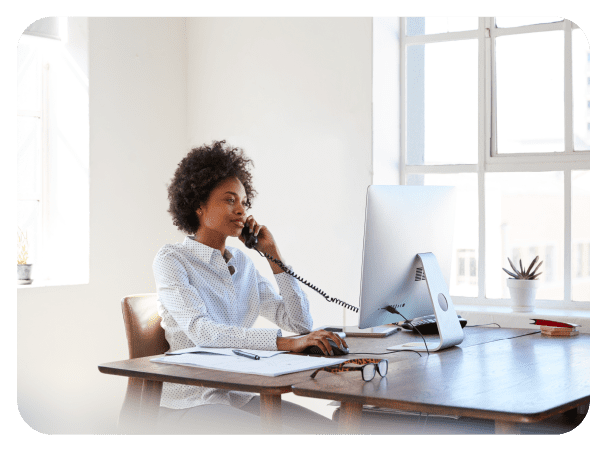 Automate tasks within probate & LPA matters
Increase productivity and reduce the time spent completing repetitive tasks using Osprey. Standardise your data capture processes and create and store important client documents in a central location so your workload stays organised and you can access them from anywhere at any time. Work smarter with the Osprey workflows that automate time-consuming tasks during wills, probate and LPA matters. Take back control of your workload with a case management solution that streamlines processes, organises your diary, data and documents and empowers lawyers to be more productive.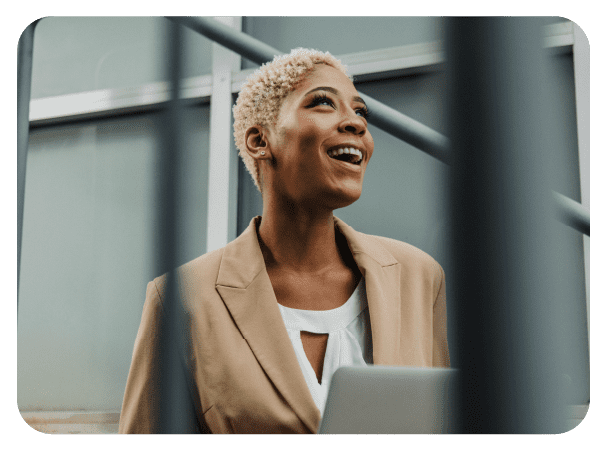 Work on the go
We know private client lawyers are often away from their desk, perhaps on a home visit, so we've made sure you can access Osprey no matter your location. With all your documents and data stored in the cloud you can easily and securely access all the Osprey features and integrations from any device. With the addition of our time recording app, you can also effectively record time on tasks to ensure your invoicing is accurate. Even on the go you can still maximise productivity and avoid manual admin to complete back in the office because Osprey gives you the freedom to work effectively from anywhere.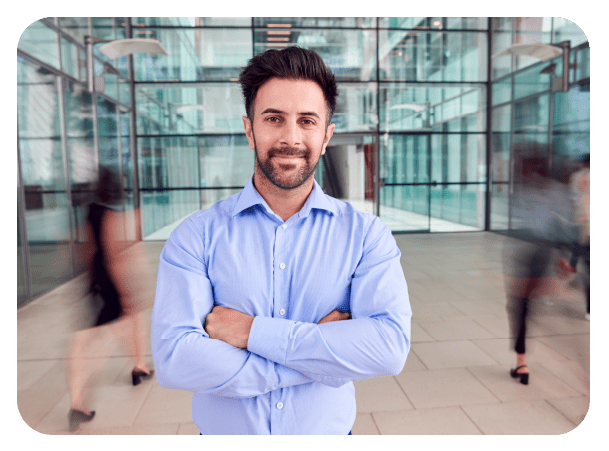 Digitally organise your firm
Never lose track of a file again with Osprey's centralised, comprehensive document creation and storage solution. Osprey's private client software helps your produce many of the letters, forms, and documents you need and store them in a single cloud-based platform. With unlimited storage, Osprey keeps your files organised and with the powerful global search feature you can easily find and stay on top of your documents.
Keep a record in Osprey of all the original wills and LPA documents you hold in our document storage register so your COFA and COLP can keep track of any movements or withdrawals ensuring important documents aren't lost and best practices are followed.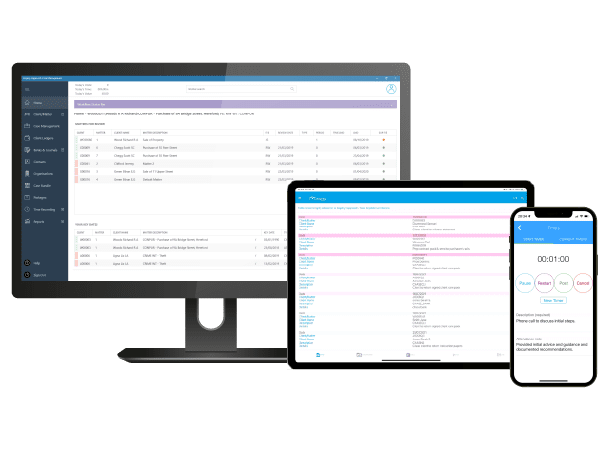 Wills & probate case management key features:
Configurable workflows
Streamline your tasks and standardise processes by making use of the customisable private client workflows available including specialised wills, LPAs and probate.
Probate App
Stay focused on your tasks and access the relevant powerful tools and functionality you need in Osprey's dedicated probate app.
Document production
Auto-populate forms and documents, build a template library and easily store and edit documents to significantly reduce production time and human error.
TextAnywhere integration
Keep your clients regularly informed by scheduling timely text messages using the TextAnywhere integration.
Automated calculations
Osprey's workflows automatically populate many of the IHT form calculations, saving you hours of time.
Integrated time recording
Record your tasks in real-time with the time recording app. Whether you're at the office or with clients, ensure you're accurately billing your hours.
Frequently Asked Questions
What is case management software?

Private client case management software allows practitioners to manage their probate, Lasting Power of Attorney and Wills matters. The A cloud-based Case management software (CMS) centralises all your documents, data and files so they can easily be accessed from any location. A CMS lets you prepare and store documents and forms as well as offering time recording, contact and organisation management, a client web portal, compliance and reporting features and automated workflows for a complete package. Find out more about the Osprey case management solution.

Is Osprey right for my firm?

Osprey Approach is suitable for any firm size and practice area. The solution includes features and functionality that are beneficial for all including specialised apps and workflows that ensure you have the tools you need to complete your cases. You can be confident, when using Osprey, that your manual admin will be reduced, productivity will increase and client service will be enhanced. Use Osprey Approach to transform the way your work.

What other applications does Osprey integrate with?

Yes, Osprey Approach integrates with many of your favourite, powerful software applications and services such as DocuSign, Microsoft 365, InfoTrack and many more. Manage your entire firm through a centralised platform so you can streamline operations. Discover all our integrations here.

Does Osprey's private client case management software include functionality for wills, probate and LPAs?

Yes, you can manage all these areas from within Osprey and have access to our pre-built, specialised workflows for these types of matters. You also have the option of using, where appropriate, the client web portal which allows you to communicate and share documents with your clients in a secure environment.

How do I get started with Osprey?

It's simple – contact our sales team for a full demonstration to ensure the solution meets your needs and we can begin your implementation process at an appropriate time for your firm.
Once implemented our support team will be available to provide remote training and support (included within your licence fee) at any time throughout your contracted period so you can always feel confident using our solution.
The Osprey Approach All-in-One Solution
The complete Osprey Approach solution combines comprehensive case management, powerful practice management, legal accounting, and streamlined client management – enabling your firm to run a streamlined and profitable operation that exceeds client expectations.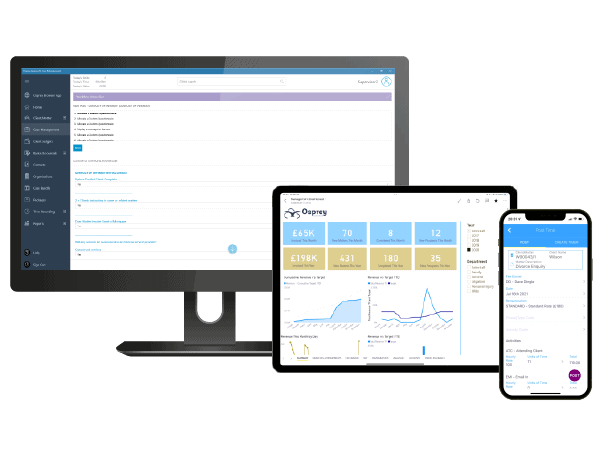 See Osprey in action
Discover the power of Osprey Approach in a free, no obligation demonstration, and learn why thousands of lawyers trust our software solution to manage their firm. Complete the form and a member of our sales team will be in touch to find out more about your firm's needs and to book a meeting at a time that suits you.