Family law practice management software
Osprey's cloud-based legal software is built to empower family lawyers so you can make a positive impact. Streamline and digitalise accounting and document production whilst staying digitally connected to clients whenever they need you. Work smarter, increase productivity, and effectively serve clients.
Trusted by law firms across the UK
0
1
2
3
4
Cloud-based legal software built for family law
Your legal software shouldn't restrict you. Osprey provides flexibility, so you can work where, how and when you want. With fully configurable workflows, developed for various family law procedures, and a dedicated family law app, you can be hyper-focused on the task at hand.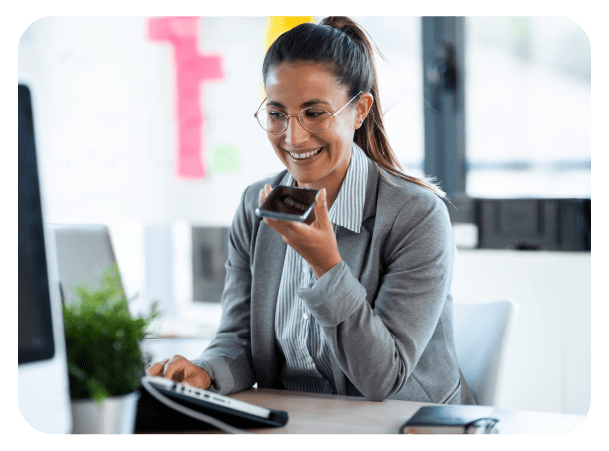 Legal software that helps you make a positive impact
Help your clients when and where they need you. Osprey's integrated online enquiry forms and secure client portal digitally connects you and your client. Your clients will thank you for the easy client onboarding and transparent service you can provide, helping to make the process simpler when the law can be so complicated. Better meet your clients' needs whilst driving efficiencies for the business.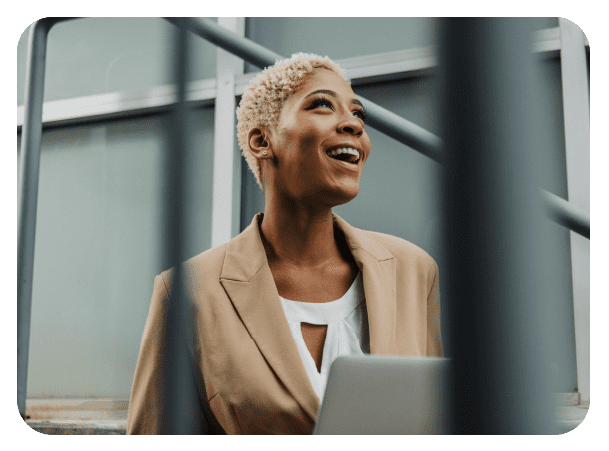 Manage your cases whilst on the go
As a family lawyer, we know you can often find yourself jumping between locations and visiting clients or attending court so being able to manage your cases and access client and matter data is crucial for your productivity. Osprey's powerful family app lets you successfully manage your cases on the go so you have the freedom to work in a way that suits you. Access your documents, case bundles, client data, workflows and much more from any device, no matter your location.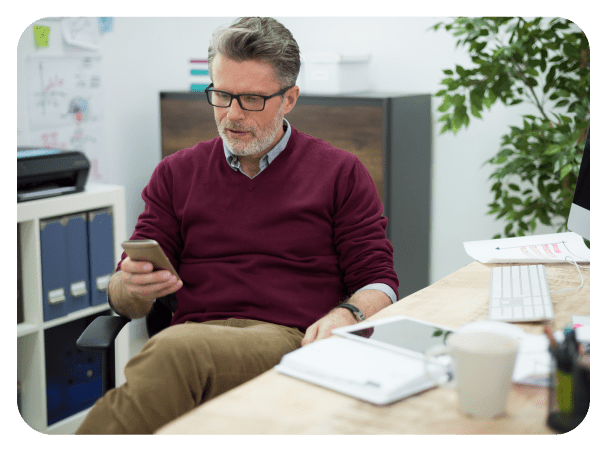 Streamline & digitalise document and form production
Integrated with popular form providers, Lexis Nexis Forms, Osprey provides firms with a single platform to complete your family law cases from start to finish. All forms and documents can be auto populated with client and matter data you already store in Osprey saving your precious time and reducing costly errors. You can create your court bundles in Osprey too, significantly reducing cost as the software automatically orders, paginates, and indexes the PDF making it easy to produce and share to counsel via the web portal or secure link.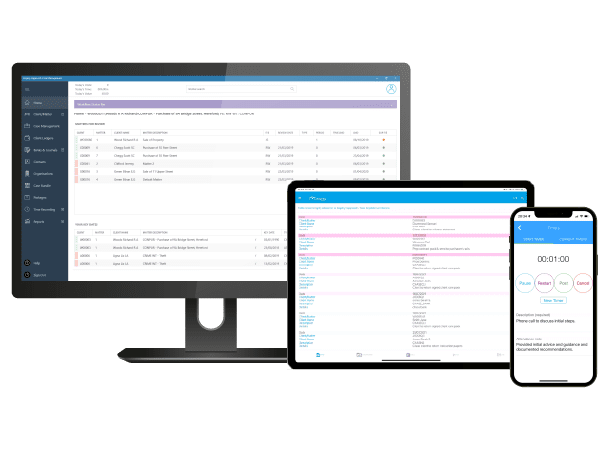 Features designed for family law case management
Specialised workflows
The family law workflows present all the key stages of your case, from instruction to completion, saving you precious resource. Each workflow is configurable to your firm so you're in control of how you work.
Faster form production
Reduce the time spent on creating forms (such as form E or FL401) with the Osprey and Lexis Smart form integration.
Automatic time recording
Effectively record time for both private and legal aid matters using the Osprey time recording software.
Data security for family law
With functionality that allows data to be kept in line with GDPR best practices, you can be confident that you can work and collaborate on cases with reduced risk.
Case bundles
Save hours of time and reduce printing costs using the case bundle feature in Osprey that automatically orders, paginates, and indexes your PDF file without manual editing.
Frequently Asked Questions
What is family law case management software?

Family law case management software (CMS) provides lawyers and law firms with the digital tools to effectively run their practice. CMS improves efficiencies, competitiveness, compliance, client service and profitability.

Family law case management software includes integrated modules, features and functionality that are needed to run a successful and profitable family matter. A CMS includes: matter, client and document management, time recording, accounting, client portal, reporting, and workflows. When combined, these modules and features help to digitalise, modernise and streamline a law firm's operations so the team can more easily manage their busy workloads and focus on what matters – supporting their clients.

Is Osprey suitable for my law firm?

Yes, Osprey is suitable for all law firms, no matter their size or practice area. Osprey Approach provides family lawyers and departments with specific digital tools to manage their matters and clients. With dedicated family-specific workflows and apps your team will have everything they need to be more productive and efficient.

Can I manage legal aid family cases in Osprey?

Yes, you can easily manage legal aid cases using Osprey. Remuneration rates are kept up to date in Osprey with guidance from the Legal Aid Agency. This makes time recording for work and FAS easy with Osprey.

Do you integrate with other business tools?

Yes, Osprey Approach integrates with many of your favourite, powerful software applications and services such as DocuSign, Microsoft 365, InfoTrack and many more. Discover all our integrations here.

Can I create digital case bundles in Osprey?

Court bundles can be created quickly and easily, saving your hours of time. Simply add documents from the matter history, click the 'create bundle button' and a PDF will be prepared. The PDF will be automatically ordered, paginated – with bookmarks to each document – and the indexed.

Do you offer specialised family workflows?

Yes, we have several workflows aimed to assist fee earners with divorce, finance, private and public children, non-molestation and occupation orders and change of name deeds. All our workflows are customisable so you can edit and amend any of the tasks and actions within a workflow to ensure it suits your firm's needs.
The Osprey Approach All-in-One Solution
The complete Osprey Approach solution combines comprehensive case management, powerful practice management, legal accounting, and streamlined client management – enabling your firm to run a streamlined and profitable operation that exceeds client expectations.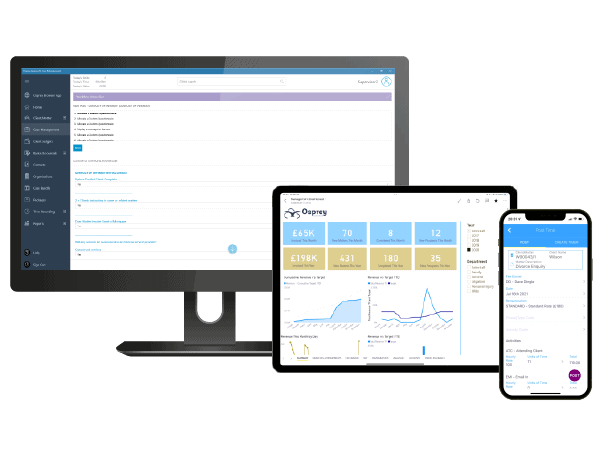 See Osprey in action
Discover the power of Osprey Approach in a free, no obligation demonstration, and learn why thousands of lawyers trust our software solution to manage their firm. Complete the form and a member of our sales team will be in touch to find out more about your firm's needs and to book a meeting at a time that suits you.