As a small firm, you and your team juggle a lot. With limited resources we know you're likely to wear many hats and Osprey helps you to multi-task, manage your workload and drive your business forward with ease.
Trusted by law firms across the UK
0
1
2
3
4
Case management software for small law firms
Let our case management solution take care of the repetitive, manual tasks so that you can focus on winning new business and building client relationships. Access Osprey from any device, no matter your location, so you're always on top of your to-do list and in control. Osprey supports small firms like yours to perform at their best.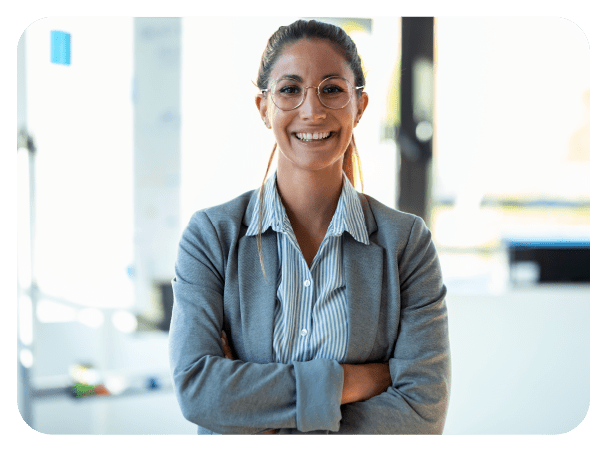 Osprey enables flexibility
Osprey Approach is a cloud-based case management solution that empowers small law firms to work in a way that suits them. Providing complete flexibility, you can manage and grow your team remotely – helping you to acquire and retain top talent. Available on all devices using our suite of mobile and desktop apps, your team can work effectively in the office, from home or on the go, ensuring you're always maximising productivity. We offer a fully cloud-based solution that ensures your data and documents are stored securely in the cloud and accessible in Osprey, ensuring your firm's operations are centralised and connected. Our cloud-based solution helps firms like yours stay flexible, adaptable and, more importantly, profitable.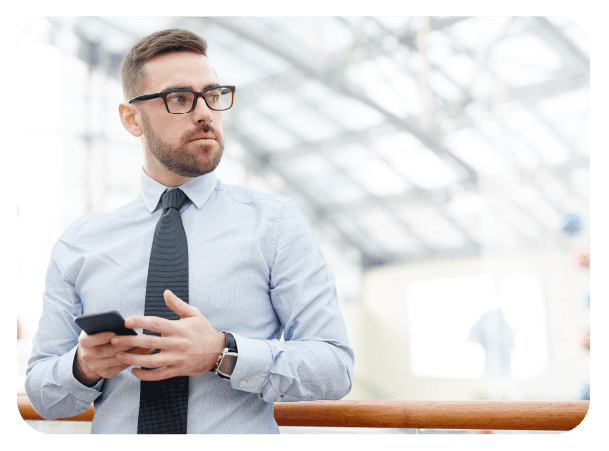 Successfully scale and grow your law firm  
Avoid the common challenges law firms face as they grow and implement a solution that effectively scales with your practice. With strong digital foundations, it becomes effortless to increase your workload, client intake and revenue without needing to rapidly expand your team, hire administration help or work longer hours.
Osprey provides you with the tools to automate the time-consuming processes and enable you to focus on achieving your firm's goals. Prioritise billable work, easily track your time and stay in control of your cases and finances in one powerful platform. Don't get caught up in legacy manual processes and drive your firm forward with efficient, client-focused and profitable practices using software that supports you today and helps you maximise success in the future.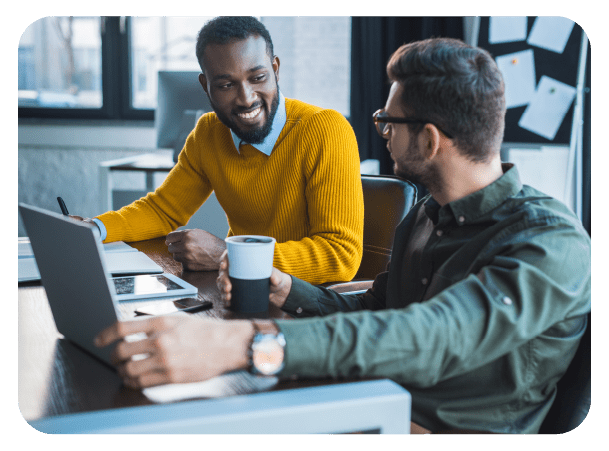 Workflows help you get started
Implementing time-saving automations in your daily practice has never been easier using the Osprey focused workflows. We have a library of configurable workflow templates that are designed for any practice area or processes that are essential to run your firm. From file opening tasks to file closing tasks and everything in between, you can get started on automating and digitalising your processes with minimal resource and no coding. Our support team are always on hand to assist you in your digital transformation and can implement workflows and help configure them to your needs so you can start reaping the rewards from the outset.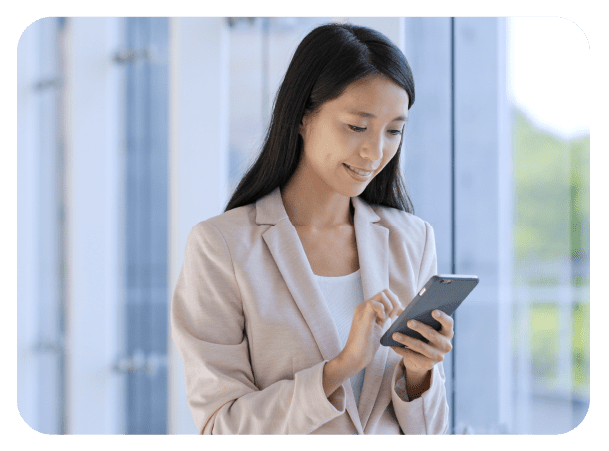 Effectively onboard more new clients
Grow long-lasting client relationships and generate new business using the Osprey legal CRM. A centralised database of contact data, enquiries and matter history provides your team with full visibility, so they never miss an opportunity. Easily manage your enquiries within Osprey, regardless of the source, and schedule automated follow-ups which help you to provide a quality customer service that increases conversion rates. Offer a friction-less, digital onboarding service too, with secure client web portals, e-signature tools, digital data capture, and document storage that exceeds client expectations but positively impacts your bottom-line.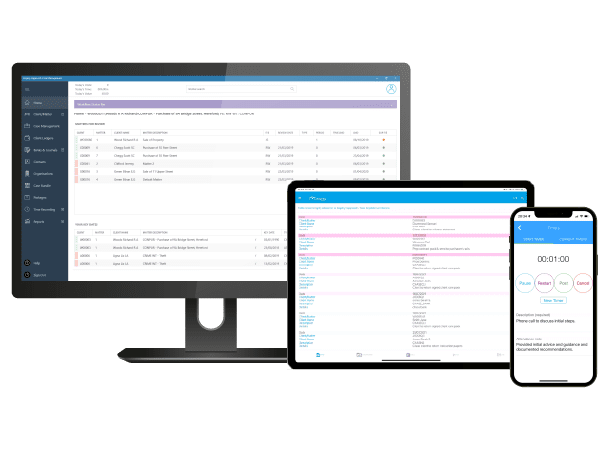 Key software features for small law firms:
Integrated accounting
Avoid paying twice for separate accounting software with Osprey's fully integrated accounting solution that's always included in your licence.
Time recording
Integrated time recording ensures you maximise your billable hours for accurate invoices that improves profitability.
Integrated with your favourite tools
Easily connect your favourite business tools, such as Office 365, DocuSign and InfoTrack, and run your firm from one powerful platform.
Templated workflows
Implement our library of workflows, designed by lawyers, so you can start benefiting from automation and increased efficiencies without additional resource.
Subscription model
Effectively manage your cashflow with our simple subscription pricing.
Enterprise-level features
Integrated enquiry management tools, online quote calculators, client access web portal and many more enterprise-level features that enable you to effectively compete with larger firms.
Frequently Asked Questions
What is practice and case management software?

Legal practice and case management software (PCMS) provides lawyers and law firms with digital tools to effectively run their practice to help improve efficiencies, competitiveness, compliance, client service and profitability.
PCMS is a platform of integrated modules, features and functionality including: matter, client and document management, time recording, accounting, client portal, reporting, and workflows. When combined, these modules and features help to digitalise, modernise and streamline a law firm's operations so the team can more easily manage their busy workloads and deliver unrivalled client service.

Am I too small for case management?
What are the benefits of legal software for small firms?

Case management software provides lawyers with a platform to more effectively and efficiently run their practice. The features and functionality of practice and case management benefits law firms, of all sizes, because it helps to increase productivity, improve efficiencies, and boost profitability to help you achieve you goals. The features and functionality of legal software help you deliver an excellent client experience and deliver enterprise level services so you can stay competitive. Importantly, software can help reduce the cost of staying compliant, helping you to ensure you follow best practices and standards in order to meet accreditations, legislations and complete PII proposals.

Can my small firm afford case management software?

Osprey operates a Software as a Service (SaaS) model, which means Osprey is centrally hosted in our secure data centres and licences are purchased on a per user, subscription basis. This reduces CAPEX costs for law firms, proving the most cost-effective way to purchase software and reduces the maintenance resource needed for upgrades and updates. This makes Osprey a great solution for small firms as the costs are easily manageable.

We also offer unlimited training and support so you'll always have guidance in maximising your use of Osprey to see a return on your investment. For more information, download our guide on how to achieve a return on investment from your legal software. 

Does Osprey integrate with other software applications I use?

Yes, Osprey Approach integrates with many of your favourite, powerful software applications and services such as DocuSign, Microsoft 365, InfoTrack and many more. Manage your entire firm through a centralised platform so you can streamline operations. Discover all our integrations here.

Can Osprey help us stay compliant?

Osprey has a fully compliant legal accounts package built in to ensure that you remain compliant with the solicitors accounts rules. We also have a whole host of features and functionality that help you stay compliant, follow best practices and meet requirements. Our focused workflows help with risk management, CDD as well as undertakings, ensuring that you meet the requirements of the money laundering regulations and the solicitors code of conduct. Osprey is also GDPR compliant so you can easily deal with data subject access requests. Find out more about our compliance features here. 
See Osprey in action
Discover the power of Osprey Approach in a free, no obligation demonstration, and learn why thousands of lawyers trust our software solution to manage their firm. Complete the form and a member of our sales team will be in touch to find out more about your firm's needs and to book a meeting at a time that suits you.